"A'ohe hana nui ke ala 'ia"
No task is too big
when done by all"
Following the 'new" format on how reunions
will be plan and hosted,
The "Dinah Makaiwi" Ohana are
the first to host under the new format.
Her Ohana is so proud to present this years reunion
and much aloha went into the
planning and execution of the 2018 Makaiwi reunion.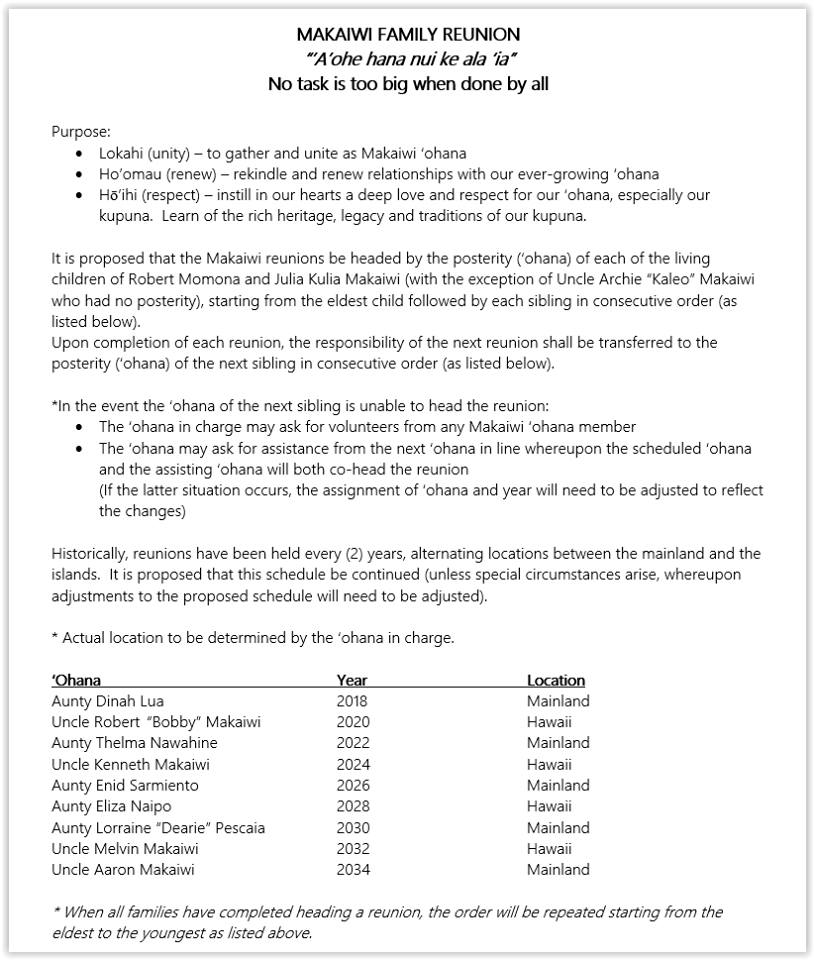 Photography
We are undertaking an ambitious project to try and create a photo family "tree" Please send your images with names to
to be included in our photo family tree
email to: leolaniwong@gmail.com
Registration Fees and T Shirt Ordering
For information about registration Dues and T-shirt ordering
You can pay with check or by Pay Pal
a little more about Dinah Kekui…
Dinah Kekui Makaiwi was the first born child of 13, to Julia and Robert Makaiw. She was born in Waikapu, Maui on October 17, 1918.
She grew up in Hawaii and graduated from McKinley High School. She met and married George Kaupono Lua.  They had five children Violet,  Clarence, George, Kenneth and Delirine.
The family moved to San Francisco Ca in the 50's and bought a 3 story apartment flat at 5720 Howard Street. The stories have been told that many of her siblings and their families came and lived there until they were able to get out on their own.  A few years after moving to the mainland her husband, George Kaupono Lua would die of heart problems.
Years later she would re-unite with an old schoolmate, Cupid Panihao Mokuau.  They would marry and buy a house in SF, 838 Colby Street, which is where her daughter Delirine and her family also lived for many years.
Dinah was a very active in many types of endeavors. She was active with the Mormon Church at the Polynesian ward in San Francisco. She was active in the Polynesian Cultural Club and would have luaus and sell tickets to people to raise money. She even owned a small restaurant on Broadway street, next to Chinatown.  Her main passion was her ohana.  She spent her time traveling back home to Hawaii, to stay with her siblings and in Sonoma County to visit her children and grandchildren.  She made sure to pass down the Hawaiian ways to her grandchildren, teaching them the aloha way.
In her later years she became blind from diabetes but she still managed to quilt from "feel".  Diabetes eventually took her kidneys and she spent time on dialysis. She passed on April 13, 1985 in San Francisco, CA. She died rom pneumonia and complications from renal failure. She lived life to the fullest. She was a generous, hardworking, beautiful, strong Hawaiian.  She was a leader.
Her influence has left a long lasting impression on her ohana, and we hope she is proud as she looks down on us.